Occhio. Eye [noun]. The part of the body with which one sees
Occhio. Eye [noun]. A talent for noticing and judging a particular type of thing
Occhio! [interjection]. Can mean Attenzione! - Look out! - Watch out! - Careful!
A word or phrase shouted by many a legend in the pro-peloton whilst wearing Nalini.

We are Mark R and Mark S and we co-founded OCCHIO in 2021. After a chance meeting at a coffee stop near the beach in Woolacombe we realised that there were too many similarities in our previous working careers to not meet up and discuss how we could work together. We'd both worked for giant blue chips most of our careers, both developed a love of cycling later in life when our joints got a bit creaky, and we were now both working in sportswear development and sales way out on the north Devon coast. This seemed quite spooky to us and we knew we had to work together somehow. We're based in serious puncheur country too, where it is rare to find a section of flat road until you reach the beach. OCCHIO now has it's HQ just a short twiddle from the notorious Cat 1 Challacombe Hill climb that tormented 2018 Tour of Britain riders as they rose out of Woolacombe bay being chased by lifeguards wearing red budgie smugglers. A million miles from Italy, but wonderful cycling country. Why did we both want to become the exclusive UK distributor for Nalini, the brand marque of the famous Italian MOA Sport company?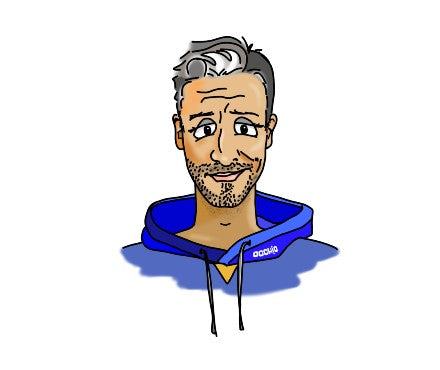 Mark S
My love of Nalini and the MOA Sport factory began in 2008 when I was working at adidas to supply British Cycling, British Triathlon and Team Sky. MOA Lab and Nalini was the factory of choice for creating the clothing for these incredible teams. To me it was an oasis of incredible product manufacturing know-how, with the best pro-cycling team supply history of any cycling clothing brand. When meeting the owner Mr Mantovani and his team on my regular visits there, I was always blown away by the levels of knowledge and passion for making cycling clothing. As the years passed by and through speaking with Nalini in different project roles, something continued to jar with me, and this was how little was known about the Nalini brand in the UK by the cycling community. After working as a consultant in the cycling clothing industry for a while, the opportunity of working with Nalini came round again, and thanks to Brexit, OCCHIO.CC was born. We had to create a distributorship to work around the obstacles of Nalini being able to sell direct to customer, or smaller independent retailers. I always believed that Nalini could bring something different to the British cycling public due to their unparelleled history in supplying pro teams, their in-house fabrics and pads, and the sheer know-how about clothing construction. They are so different to everything else out there and the brand has never been given a fair crack of the whip in my opinion. With a history of dressing the greatest of champions such as Fignon, Roche, Bugno, Chiappucci, Indurain, and Pantani, supplying teams like Carrera in the past, Cofidis and Astana in recent years, and now with Team DSM and Intermarché Wanty Gobert; how could this brand not be given a chance amongst cycling fans in the UK? With Nalini also having the license to product and sell the iconic Campagnolo clothing ranges, we felt that it was time to give these beautiful brands a new UK home.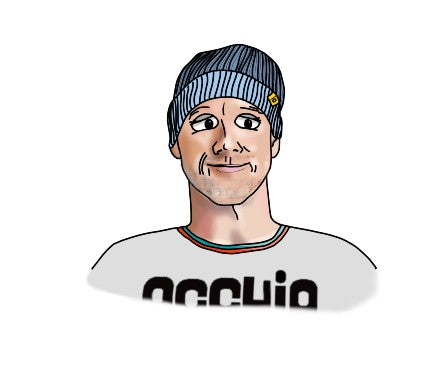 Mark R
I grew up just down the road from our OCCHIO office in sunny Woolacombe. Not surprisingly, surfing and ocean sports became a key part of daily life. After teaching sports science at the local college, I moved away to follow a career in medical device sales and eventually ended up as a commercial director at Johnson & Johnson before taking on the challenge of working with exciting start-ups. Eventually I came back home to set up my own kayak, surfski and clothing brand - ICON Sports. After 7 years of everything ICON I was keen to create a sister brand and OCCHIO.CC was born. Designing my own kayak, surfski and clothing range has been a huge buzz. I'm passionate about manufacturing first class products and it's been immensely satisfying to see them being used by world and Olympic champions. Creating a successful online sales platform and media profile was a huge and great learning experience. Some of the products from our sister company ICON Sports will find their way onto the OCCHIO website. The ICON base layers are well proven in the kayak world and perfect for wearing under the Nalini and Campagnolo pieces. When I was offered the chance to represent the famous brands of Nalini and Campagnolo through Mark So it was a no brainer! I grabbed the opportunity without hesitation. OCCHIO aims to offer something a little different by blending a fun and efficient service with high end brands. We have so much exciting work to do, but rest assured there will be down time in the sea or on the bike. We can't forget to appreciate this beautiful part of the world!
With our combined experience, we aim to create a home for the Nalini and Campagnolo brands that sells both direct to you the customer, and to the trade. Occhio is set up specifically set up to be able to support IBDs who wish to sell these brands with stock risk free sales through dropship and small orders. We feel passionate that our business should support the lifeblood of the cycling sales business, the independent doors and the most authentic of cycling retailers, no matter how small the shop or order. Some will already know the heritage of Nalini and Campagnolo, and we hope that we can help more people discover these brands. They belong in the most authentic of stores where customers can see them a occhio nudo (with the naked eye). We hope that as time goes by, we can list more and more stores in the UK where you the customer can go and find these classy Italian cycling clothing collections. OCCHIO for our store listing!

We also hope that you will come on our journey with us, to wear brands with such a rich heritage as Nalini and Campagnolo, be different with us, and dare to go against the predictable with stunning Italian style and genuine history next to your skin. Not something dreamed up in a London design studio. Our products are not for sheep though, you have to avere occhio (have a good eye)!

Imagine riding out wearing the same clothing worn by legends such as Pantani, Visentini, Roche and Indurain?

Thanks for listening, hopefully we get to meet you at an event one day soon, and now it's time to watch out for some products. OCCHIO!