Occhio. Eye [noun]. The part of the body with which one sees
Occhio. eye [noun]. A talent for noticing and judging a particular type of thing
Occhio! Interjection. Can mean Attenzione! - Look out! - Watch out! - Careful!
A word or phrase shouted by many a legend in the pro-peloton whilst wearing Nalini.

We are Mark R and Mark S and we co-founded OCCHIO in 2021. Fate created a meeting between us by the beach in Woolacombe and we soon realised that in addition to both being called Mark, we'd both been elite sportsmen in different sports, both came from a sports science background, both progressed into the commercial world for giant blue chips, both developed a love of cycling later in life when our joints got a bit creaky, and both ended up working in sportswear development and sales. More than that, after travelling the world through work and putting in way too many miles on the M6 we were both now based right on the stunning coastline of North Devon. This seemed quite spooky to us and we knew we had to work together somehow. We're based in serious puncheur country, where on tractor mud strewn roads, filled with caravans and VW vans it is rare to find a section of flat road until you reach the beach. We are excited, but sometimes nervous, that OCCHIO now has it's HQ just a short twiddle from the notorious Cat 1 Challcombe Hill climb that tormented 2018 Tour of Britain riders as they rose out of Woolacombe bay chased by lifeguards wearing red budgie smugglers! A million miles from Italy, but wonderful cycling country! Simon Warren, author of the 100 Climbs series, says of Challcombe Hill: It rises hard [out of Woolacombe] immediately and never gives you a rest. The single-track, well-surfaced road creeps away from the bustle of the small town, kinking left slightly around midway. Higher up it hits 25% – you'll find it very hard going as you are jolted along the final metres that lead to the top.

Why did we both want to become the exclusive UK distributor for Nalini, the brand marque of the famous MOA Sport company?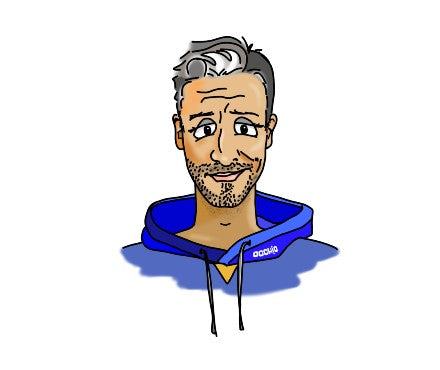 Mark S
My love of MOA Sport began in 2008 when I was working at adidas to supply British Cycling, British Triathlon and Team Sky, where in addition to my day-to-day sports marketing role I found myself creating products for some of the best bike riders in the world and for a team that was about to take the pro-cycling world by storm. MOA Sport was an oasis of incredible product manufacturing know-how, steeped in possibly the best pro-cycling team supply history of any cycling clothing brand. On top of that MOA Sport was based in one of the most beautiful places I had ever seen, I and was able on a couple of occasions to take my bike out there and ride in prototypes through stunning Italian country roads. From meeting the owner Mr Mantovani to each and every one of his team, I was always blown away by the levels of knowledge and passion for making cycling clothing. As the years passed by and after occasional conversations with MOA Sport in different project roles, something continued to jar with me, and this was how little was known about the Nalini brand in the UK by the cycling community. After working as a UCI agent and consultant in the cycling clothing world, the opportunity of working with MOA Sport came round again, and thanks to Brexit, OCCHIO.CC was born. We had to create a distributorship to work around the obstacles of Nalini being able to sell direct to customer, or to small retailers. I had always felt passionate that Nalini could bring something different to the British cycling public, something that was born out of an unapparelled history of supplying pro teams, quality of fabrics, pads, know-how and clothing construction, yet could be so different to everything else out there. The brand has never been given a fair crack of the whip in my opinion. Nalini was founded in the early 60's and very quickly became a technologically advanced manufacturer, dressing the greatest of champions such as Fignon, Roche, Bugno, Chiappucci, Indurain, and Pantani, and many more. How could a brand like Nalini with such a rich heritage, supplying legendary teams like Carrera in the past, most recently teams like Cofidis and Astana, and now with Team DSM and Intermarché Wanty Gobert; not be given a chance amongst cycling fans in the UK? With Nalini also having the license to product and sell the iconic Campagnolo clothing ranges, now is the time to give these beautiful brands a new UK home.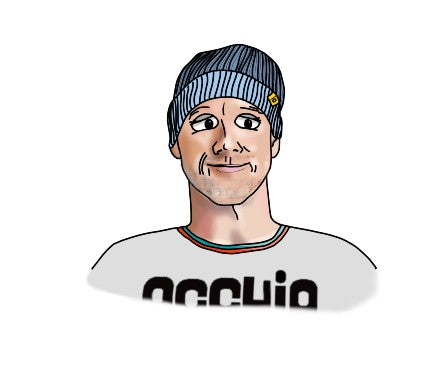 Mark R
I was born and bred just up the road from our new OCCHIO base, and after a career as commercial director at the blue chip pharma Johnson and Johnson, I set up my own Surf-ski boat and clothing business back here in North Devon and my business needed a sister company to make my work premises work well for me. Occhio HQ was born. Manufacturing my own boats and clothing ranges, I'm passionate about manufacturing first class products, many of them used and worn by world champions, and the process of creating these products and the ability to create of a successful on-line sales platform for them gives me a real buzz. When I realised I had the chance to represent the famous brands of Nalini and Campagnolo through Mark S, looking at their history and the quality of their clothing, I was blown away by the opportunity. I also love a challenge and setting up Occhio is intended to go against the status quo, to offer something different, and we have a challenge ahead. All work and no play is strictly not allowed at OCCHIO though. When surf's up, you might be more likely to find me out in the sea waiting to catch the next big wave. But if there's no surf, then I vow to get out on my bike more. Some of my products under the ICON Sports brand will find their way onto the OCCHIO website with wonderful base layers that are well proven in the choppy waters of North Devon and perfect for wearing under the Nalini and Campagnolo pieces.
With our combined experience, we have aimed to create a home for the Nalini and Campagnolo brands that sells both direct to you the customer, and to the trade. Occhio is set up specifically set up to be able to support IBDs who wish to sell these brands with stock risk free sales through dropship and small orders. We feel passionate that our business supports the lifeblood of the cycling sales business, the independent doors and the most authentic of cycling retailers, no matter how small the shop or order. Some will already know the heritage of Nalini and Campagnolo, and we hope that we can help more people discover these brands. They belong in the most authentic of stores where customers can see them a occhio nudo (with the naked eye). We hope that as time goes by, we can list more and more stores in the UK where you the customer can go and find these classy Italian brands. OCCHIO for our store listing!

We also hope that you will come on our journey with us, to wear brands with such a rich heritage as Nalini and Campagnolo, be different with us, and dare to go against the predictable with stunning Italian style and genuine history next to your skin. Not something dreamed up in a London design studio. Our products are not for sheep though, you have avere occhio (to have a good eye)!

Imagine riding out wearing the same clothing worn by legends such as Pantani, Roche and Indurain?

Thanks for listening, hopefully we get to meet you at an event one day soon, and now it's time to watch out for some products. OCCH!O